There's been a little bit of talk recently about Keg Tracking.
In particular I just read a post from another company about how breweries are faced with either spending a lot of money on RFID equipment and setup training or spending a lot of time scanning for bar-codes. I find it interesting that this post is coming from a company that actually doesn't offer keg tracking as a feature. In this post they explain why their customers don't need it, but to me their post felt like a defensive spin for why they don't offer the feature.  They didn't fully articulate all the tracking options, benefits (or not), and/or reasons for keg tracking.  Before we get into that though I want to discuss costs of keg tracking.
The honest truth is that RFID tags are not expensive. You can do a simple search on Alibaba and find them for less than a cent each (Example Search on Alibaba). RFID scanners can be costly but one device should be enough for small breweries and one per station (cleaning, filling, storing, shipping, receiving) should be good for bigger breweries. Beyond that it's a simple sync up to some kind of tracking database.  If intense training is required to operate the scanner or the database, then the development of the tool is poor. DashBrew and KegMetrics has been investigating this opportunity for a while now.
Currently KegMetrics offers batch QR code reading from your HTML5 enabled browser. That's right, no additional devices to buy or manual serial number writing. Our technology also allows any third party QR scanning application to read our QR code and show the contents of the particular keg. This means you can replace using keg collars in situations where the TTB or state law don't require it (like internal inventory, or onsite tap house management etc.). RFID is a logical next step for us.  You can already use your phone to scan RFID tags which is great but not all devices support this technology yet.  This is why we are not yet ready to release RFID tracking as a feature.  Custom proprietary RFID solutions are completely possible and reasonably priced, contact us if you would like use to create one for you.
With that out of the way there's an additional and much more important topic this recent article I'm referring to got wrong.  They talked about Keg Tracking. At KegMetrics and DashBrew we believe Keg tracking is pointless. That's right.
We do however believe Keg Management is critical for success. This might seem like semantics but in reality it is not. You see just tracking your kegs does not yield the information that is important. You must first ask yourself why you are tracking your kegs and the ultimate problem you are trying to solve. It almost always comes down to:
Keeping your kegs from disappearing
Getting your kegs back faster
We get it. That is why from the ground up we designed KegMetrics to do both of these things as primary goals. Achieving these goals requires you track your kegs but the point in doing this is to either get your kegs back faster or to keep your keg loss down. That's why the other features in KegMetrics are there. We crunch the numbers, we provide you information and take the actions to get your kegs back faster. We create the accountability to keep your kegs from getting lost. It turns out that a nice side effect of doing this also improves other aspects of your operations. Resulting in a better bottom line. Do you know how much your kegs are costing you?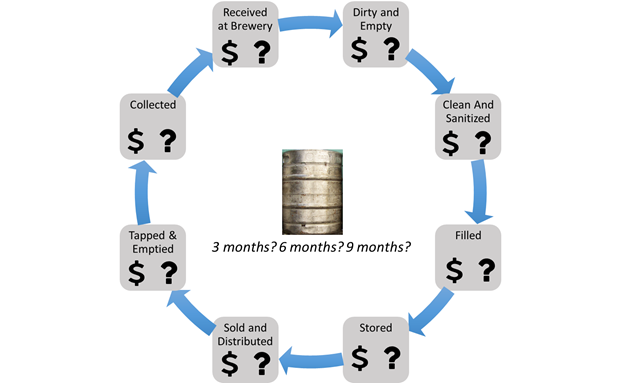 When you are ready to get out of an accountant's world and into managing your operations effectively give us a shout. We'd love to help you. Effective Keg Management is what we are all about.
Join the Newsletter
Subscribe to get our latest content by email.