Manage Your Kegs With Ease
Keeping up with Keg Maintenance can be a challenge and hassle for most breweries.  KegMetrics makes it easy.
For example, imagine you just filled a line of kegs with your award winning beer and suddenly you realize you needed to maintain two out of the 57 or so kegs. You're not quite sure at this point which keg is which. You get ready to spend a few hours tracking down the serial numbers to find the two that needed servicing. Maybe you'll get lucky and find them right away.
Suddenly the phone rings. It's another order. That's great because more orders mean more revenue. After you take your order, some customers come into your tap room. It's like 11:30am and you weren't expecting customers so early. Sales are great to have. Forty-five minutes have passed and when you return to your keg line, you've lost track of what you were doing. You then prep all the kegs for storage or shipping.
Two weeks later you get an email saying your beer was "off". Now that account is buying from a different brewery even though you've offered a refund and a replacement.
This story highlights a pain we uncovered in our early research when building KegMetrics. It's difficult, time consuming or even challenging to remember to QC and service each keg at proper intervals. It's just a big pain to keep up with it all.
Worry No More.
KegMetrics was built from the ground up with design and features as described by breweries like yours. Our application is built from the ground up to help these issues just go away. We strive to make the life of the brewer easier. KegMetrics has maintenance mode built right into it. You don't have to wait for this feature. It's something we heard you say you needed and well it's part of our V1 release. Check out to see what else is available in V1. Imagine what other features we have planned as we work toward our V2.
In KegMetrics, maintenance mode is one of the steps your kegs go through during their life cycle so you ALWAYS have confidence in the performance of your kegs. More importantly you can always have confidence in the quality of your beer!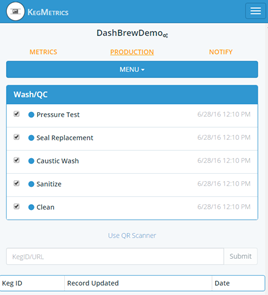 More than Keg Maintenance Mode for Fresh Beer
KegMetrics is Beer Inventory Management Software.  Based on your scanning you'll know your inventory, the freshness and be prepared for FIFO sales.
Does your Brewing Software inform you of possible human errors?  KegMetrics will.  KegMetrics has a toggle-able option to warn you should you make a mistake and skip a step in your workflow. For example, let's say you fill a keg that wasn't cleaned yet. KegMetrics warns you as you are scanning to update its status. It's simple, no searching for serial numbers, no more wondering what status the keg was in. With KegMetrics you know and it's easy.
Additionally, because KegMetrics uses your phone or a laser scan gun you can choose how much capital to spend on purchasing hardware. We built KegMetrics to be affordable and useful for the nano-brewer on up to a regional brewer.
KegMetrics is brewery software that runs in the cloud on Amazon Web Services so there's no expensive equipment to buy or maintain. KegMetrics complements your current production process. It's accessible wherever there is an internet connection so you can manage craft beer sales orders anywhere.
Amazon Web Services (AWS) is the backbone of KegMetrics. We use AWS to store, access and process data in the cloud.Who else trusts Amazon Web Services? Companies like: Netflix, Expedia, Coursera, the FDA, Dow Jones, PBS, Spotify, and Airbnb rely on Amazon Web Services to just name a few. KegMetrics is safe and secure and has daily backups.
Background
When researching and building KegMetrics we reached out to more than 40 craft brewers in various locations within the United States. Research was conducted from September 2015 through February 2016 and yielded some unexpected results. We are continuing to conduct research in all aspects of the industry. Of the breweries we surveyed, 46% said they experienced Keg Management problems and challenges. We've built KegMetrics for them. We've built KegMetrics for you.
We know what it's like to be a small business in a big industry. We are up and coming as well. We see this as an advantage because we can take feedback and adapt. We are nimble. We don't believe in status quo and we believe in making life easier for the breweries. Why? Because we LOVE beer!
Want to Learn More
If you're interested in learning more about KegMetrics, you can go to KegMetrics.com or  click the "Get Your Invitation" button below.
Keg Management can result in tens of thousands of dollars per year in time and expenses, but not if you use KegMetrics. KegMetrics is priced to deliver solutions at cost that's so low you'll achieve fast ROI. Check it out today.